December 9, 2018—Issue #142
To be honest I'm only posting this gif because I love this stupid mascot.
First, some housekeeping. If you don't subscribe to the weekly edition of this newsletter, I think you should consider it. Every week, I deliver takes, links, and recipes, as well as whatever else catches my eye that week. It's a great value, and a great way to support my work. This month, to celebrate the holidays, subscriptions are 20 percent off! And this isn't a temporary discount. Sign up and for as long as you are a subscriber, you will pay the reduced rate.
Now, a quick take.
I want to share the most interesting thing I read this week. It's from Identity Crisis: The 2016 Presidential Campaign and the Battle for the Meaning of America by political scientists John Sides, Michael Tesler, and Lynn Vavreck. This particular chapter deals with the roots of Donald Trump's appeal to Republican primary voters, and this particular passage highlights the way racial and economic appeals interacted together.
Even some of Trump's positions and rhetoric that were ostensibly not about race may have activated racial attitudes, including his support for government programs like Social Security and Medicare. Social welfare and insurance programs have long been tied to racial attitudes, with support for welfare programs weaker among whites with less favorable views of African Americans. But for the programs that Trump supported, the opposite is true: Americans with less favorable views of African Americans have been more supportive of federal spending on Social Security and Medicare.

As the political scientist Nicholas Winter has argued, "Social Security has been linked symbolically with the in-group and with hard work and legitimately earned rewards—values and attributes associated symbolically with whiteness in most (white) Americans' racial schemas." Donald Trump's discussion of protecting Social Security and Medicare for hardworking and deserving Americans arguably evoked racial imagery. [Emphasis mine]
For more than a year I've argued that you should understand Trump's voters as cross-pressured between support for government programs and hostility toward diversity and immigration. What I hadn't considered is how even a straightforward promise to protect Social Security and Medicare might be as racialized as a call to "build the wall" because of symbolic understandings of those programs. For these voters, these federal retirement programs are for whites, and thus there's no perceived threat in a promise to protect them from any incursion. And on the flip side, a promise to expand them might prompt opposition, since current beneficiaries may see this as a giveaway to the "undeserving."
This doesn't mean "don't propose major expansions of Medicare or Social Security" or "don't propose new universal programs," but it might mean that expectations of winning some Trump voters back on that basis are mistaken. They want government help, but they don't want to share it.
As always, I want your thoughts and feedback. Shoot me an email, or leave a comment below. Are you liking The Newsletter™? Click here to say so on Twitter! And if you know someone who might enjoy this email, forward to a friend!
---
The Work
I wrote about the Mississippi special election and what it says about the nature of politics in the Deep South.
Mississippi whites are still among the most conservative in the nation, a direct consequence of the state's experience with slavery, emancipation, and its aftermath. "These attitudes grew out of the historical incentives to subjugate African Americans—incentives that strengthened through the antebellum period and morphed in the postbellum period into significant institutional and social customs designed to keep blacks in socially, politically, and economically marginalized positions," Acharya, Blackwell and Sen write.
I wrote about Tim Scott, the only black Republican in the Senate, and why he's been forced to turn against some of his party's judicial nominations:
What we see here, and what we've seen since Shelby County v. Holder unleashed modern voter suppression techniques, is a complete lack of Republican opposition to the ongoing drive to discourage and disenfranchise Democratic constituencies, and black Americans in particular. Moderate Republicans are just as indifferent as their most conservative colleagues. Even supporters of criminal justice reform like Kentucky Sen. Rand Paul or Iowa Sen. Chuck Grassley have little to say about dedicated efforts from co-partisans across the country to keep black people from voting.
I wrote about the ongoing legislative coups in Michigan and Wisconsin, and how they build on earlier efforts by the North Carolina Republican Party.
Even the best defense of these moves—that they are simply an effort to protect the gains and accomplishments of the previous majority—accepts the anti-democratic reasoning that an outgoing majority is not bound by the results of an election, and instead has the right to change the rules of the game to preserve its power.
And I zeroed in on the Wisconsin effort to write a little about the geographic and racial divides driving this attack on the outcome of the elections.
The Wisconsin Republican Party's legislative coup is happening in a political environment shaped and polarized by these divisions and resentments. Eight years of hyper-partisanship, premised on a belief in the illegitimacy of the opposition, has culminated in a so-far successful effort to rob that opposition of its ability to exercise power now that it has claimed the reins of governance.

The broader implications are clear. The nation at large is wracked by a rural and urban divide that encompasses deep divisions along race, culture, and education. Increasingly polarized along partisan identity, those divides have helped produce a Republican Party—led by Donald Trump—that sees its opposition as illegitimate and seeks to restrict its influence on the nation's politics and governance.
The Reading
Adam Serwer on the Creed franchise. Mari Uyehara on San Marzano tomatoes. Brian Palmer and Seth Freed Wessler on Confederate memorials. Aisling McCrea on the idea that "debate" reveals anything. Allison P. Davis on Lena Dunham. J.W. Mason on the economics profession since the Great Recession. Lawrence Glickman on racism and the English language. Chris Lebron on Kanye West. Thea Riofrancos on populism. Caroline Fulford on The Favourite.
The Photo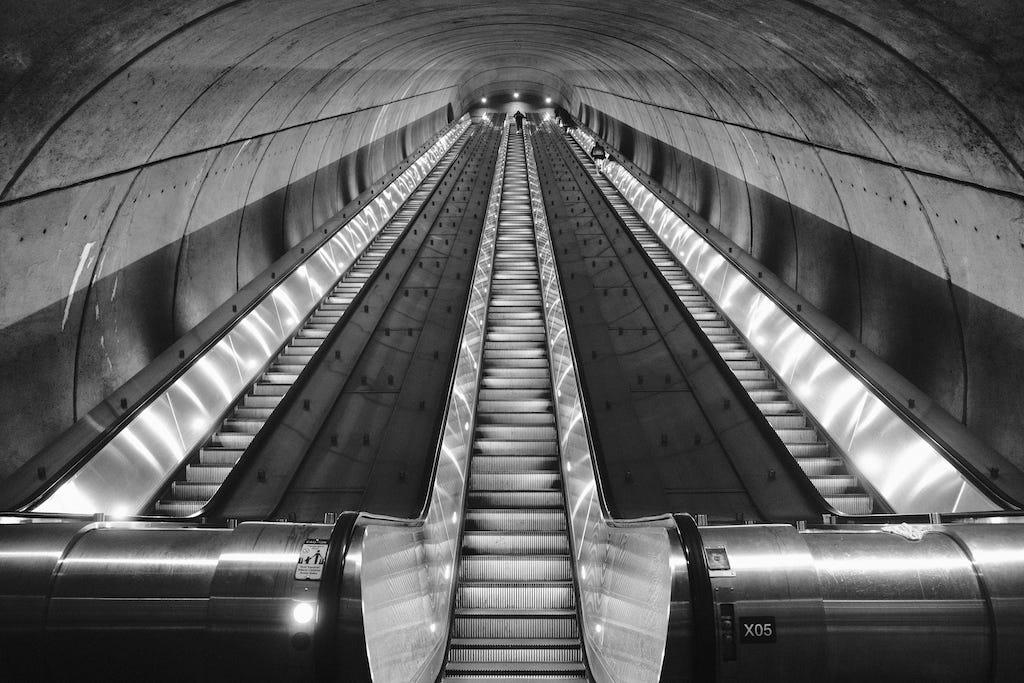 I think the D.C metro is extremely photogenic and I go through periods of photographing it and trying to capture its essence. I took the last time I was in the city, at the Woodley Park metro station. It's my attempt to abstract elements of the station, reducing them to their most prominent attributes. Here, it is the lines that all converge at a single point.
This reminds me of something I've been working on. Next year, I'm doing a gallery show of some of my photos. But first I have to curate and select the work I want to share. To that end, I've been asking myself a few questions: What is my voice as a photographer? What am I trying to say or communicate with my work? What do I hope audiences take away?
As I wrestle with those questions, I'm curious to know what you think, especially if you're a long-time reader who, at this point, has seen hundreds of my photos. What do you take away from them? How would you describe my aesthetic? Subscribers can leave an answer in the comments!
---
The Recipes
I made the first recipe for dinner on Saturday, and it was a hit. Would highly recommend serving with a salad of winter greens or something similar that can balance the plate, which will be heavy with butter and chicken fat. And, if we weren't snowed in today, I would have gotten the ingredients to make the second recipe, which is one of my favorite pies. You can eat it for dessert, of course, but I think it's best as a breakfast pie, served with a strong cup of coffee.
Chicken with Buttery Orzo
Ingredients!
Kosher salt, freshly ground pepper

6 skin-on, bone-in chicken thighs (about 2 pounds total), patted dry

3 tablespoons unsalted butter, divided

1 fennel bulb, chopped, plus fronds, chopped

1 leek, white and pale green parts only, chopped

8 ounces orzo

⅓ cup dry white wine

2½ cups low-sodium chicken broth, divided

1 tablespoon fresh lemon juice

1 teaspoon finely grated lemon zest
Directions!
Preheat oven to 400°. Rain salt and then some pepper all over chicken. Heat 2 Tbsp. butter in a medium cast-iron skillet over medium-high. Nestle chicken, skin side down, in skillet in a single layer with no gaps (if you can't quite fit them all, wait until chicken shrinks slightly, then puzzle in the remaining pieces). Cook until meat is opaque around the edges and skin is deep golden brown, 6–8 minutes. Turn chicken skin side up and transfer skillet to oven; bake, uncovered, until chicken is cooked through, 10–15 minutes. Transfer chicken to a plate.
Set same skillet over medium; combine fennel bulb and leek in skillet and sprinkle in some salt and pepper. Cook, tossing occasionally, until leek is looking golden around the edges, about 5 minutes. Add orzo and cook until pasta is darkened (it will take on a brown hue) to a nice nutty brown in spots and toasty smelling, about 3 minutes. Pour in wine and cook, stirring, until liquid is evaporated, about 1 minute. Add broth ½ cup at a time, stirring constantly and letting broth absorb before adding more, until orzo is tender and broth is mostly absorbed but pan is not dry, 10–15 minutes.
Remove skillet from heat, Taste and add more salt and pepper to your liking; mix in lemon juice and remaining 1 Tbsp. butter, then chopped fennel fronds. Pile chicken on top and finish with lemon zest.
Lemon Chess Pie
Ingredients!
zest of 1 lemon

1 ⅔ cups of granulated sugar

1 tablespoon stone-ground yellow cornmeal

1 tablespoon flour

½ teaspoon kosher salt

5 tablespoons unsalted butter, melted

5 large eggs

⅔ cup heavy cream

7 tablespoons fresh lemon juice (from about 3 lemons)

3 tablespoons fresh orange juice

1 teaspoon vanilla extract

one homemade or store-bought pie crust
Directions!
Position a rack in the center of the oven and preheat the oven to 325°F.
Place the pie shell on a rimmed baking sheet. You'll want to pre-bake the pie crust beforehand.
In large bowl, stir together the lemon zest, sugar, cornmeal, flour, and salt. Use a wooden spoon or spatula to stir in the melted butter, then the eggs one at a time, stirring well after each addition. Mix briskly until the filling is thick and light colored. Stir in the heavy cream, followed by the lemon juice, orange juice, and vanilla extract.
Strain the filling through a fine-mesh sieve directly into the pie shell, or strain it into a separate bowl and then pour it into the shell. Bake on the middle rack of the oven for 40 to 50 minutes, rotating 180 degrees when the edges start to set, 30 to 35 minutes through baking.
The pie is finished when the edges are set and puffed slightly and the center is no longer liquid but still wobbles slightly; it should be lightly golden on top.
Be careful not to overbake or the custard can separate; the filling will continue to cook and set as it cools. Allow to cool completely on a wire rack, 3 to 4 hours.
Slice and serve!
---