Well, there is no "we" here, it's just me. Jamelle.
But I do want to welcome you to the newest iteration of The Newsletter™! I had been a little restless with The Newsletter™ as previously constituted, so decided to shake things up with a change of aesthetic and platform. Beginning now, this will be published on Substack, which has some advantages for me (easier payments system, new features like embedded tweets and videos, which I promise will be used sparingly) and some advantages for you, including an easy to access web page where past issues are available, and a section for comments and Q&As.
I'm also making a few changes to the overall model of this newsletter. In the past, the difference between a regular subscription and a membership was the amount of content you got in each newsletter. I've decided to equalize the content; now, subscribers and members will get the same number of links, recipes, and extra stuff. The new difference is frequency. Regular subscribers will get one newsletter every month. Members will get one every week. In addition to sharing stuff, I want to make this more of a conversation, and consistency is key. Come Friday afternoon, you will have an email in your inbox. You'll also notice some new sections. This week, for instance, I have a movie review. Next week, I'll give you a catalog of my cookbooks, including notes on my favorites.
One last change. Previously, memberships were $4 a year (or more, if you wanted to contribute more). For new members, memberships (or subscriptions, in the nomenclature of Substack) will go up to $5 a month (or $50 a year) to reflect the time and attention I intend to invest in this newsletter. It's still a great deal: for that price, you'll get at least 8 recipes, 40 links, and some indeterminate number of gifs, photos, hot takes, and recommendations, every month. Become a member between now and next Friday, and you'll receive a permanent 20 percent discount. In addition to the content, it's a great way to support my work.
As for current members, nothing will change (although you may have noticed a few emails from Moonclerk, the previous back-end for the newsletter—you can safely ignore them). But at the conclusion of your membership, you'll have the choice to either cancel, or renew with a permanent 30 percent discount, my "thank you" for being a supporter. So, for example, if you became a member last year on August 1, then in a few weeks, you'll get an email asking you to either continue at the discounted rate or cancel. I hope you'll stay!
Alright. With that out of the way, here is a gif. It's me, on my way to the weekend: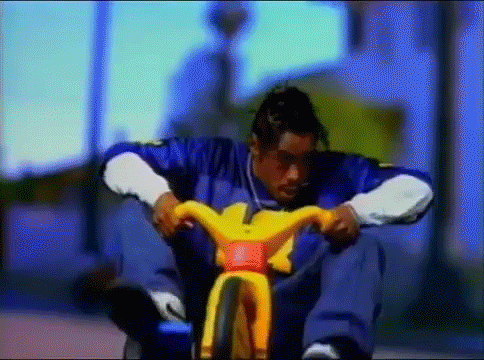 As always, I welcome your feedback. Drop me a line on Twitter or reply to this email to send a note. And to get this newsletter every week, become a paid subscriber.
---
The Work
I'm also on a new work schedule. Instead of four to five columns a week, I'm writing one or two essay-style pieces, spending a little more time with bigger ideas.
For Wednesday, I wrote about the culture of white male impunity that defines the Trump-era Republican Party:
Having elected a president known for bragging about sexual assault, Republicans are now fully committed to reflexively defending almost any accusation of misconduct, no matter how egregious those allegations. But it's how Republicans are responding to accusations of assault that illustrates their devotion to white male authority, with Trump as an unbridled, unapologetic avatar.
For Friday, I wrote about the problem of doing politics when both sides see each other as threats to the constitutional order:
Some observers warn that American democracy is untenable if both sides view each other as threats to the governing order itself, and that, in response to GOP's constitutional hardball, Democrats should endeavor to uphold the rules themselves. Alexander Hamilton suggested otherwise during the throes of 1800. "In times like these in which we live," he wrote to John Jay, "it will not do to be over-scrupulous. It is easy to sacrifice the substantial interests of society by a strict adherence to ordinary rules." He echoed that point in another letter to Jay, writing that republican government cannot stand "if one party will call to its aid all the resources which Vice can give and if the other, however pressing the emergency, confines itself within all the ordinary forms of delicacy and decorum."
The Reading
"This is the power that the Electoral College afforded Donald Trump and tonight he got to put it on display, a big-boy demonstration of his tiny-fisted potency."
"But the fundamental story of the 14th Amendment, which extended citizenship to African-Americans, has been overlooked. One hundred and fifty years since the amendment's ratification, that story is worth remembering."
"It is the representativeness of representative democracy, embodied in the institutional form of elected legislatures, that is being called into question – both where it has been formally successful for a couple of centuries, as also in places where it has yet to strike deep roots."
"A smart Democratic party might spend less time trying to win converts from the GOP and instead doing more to address the issues of economic, social, and racial inequality that many potential voters on the left feel are not addressed—adequately, or at all—by the candidates on offer."
"That most workers in capitalist societies find their work pointless and pernicious has as much to do with the social relations that envelop it as the content of the work itself."
"It can seem like an uphill battle to bring attention to the working-class victims of harassment, even though these women are often abused in starker and more brutal fashion than their counterparts in Hollywood."
"The echoing horror of slavery cuts both ways. We are often afraid to say what we know is true. The South is disaster and it is also miracle. Death and birth and rebirth and haunting ghosts at once. A new people out of old ones."
"Hip-hop, for all its creative force and ingenuity, has long subscribed to an image of addiction that corresponds with the culture it professed to reject—the image projected by fear-mongering politicians, the one that undergirds the criminal-justice system that launched the War on Drugs."
"They are ordinary moments, except for the fact that they are so rarely represented in mainstream culture, and except for the woman attached to the machine."
"Keanu's power lies not in transformation or the ability to wrap his mouth around clever word play. No, Keanu is at his most powerful when film is at its most elemental."
The Movie
Sonatine
is an existentialist film about a gangster who wants to leave the business, and gets a chance to experience life away from the fear and violence and mayhem.
It feels indebted to a certain kind of war film, where silence is common, violence lurks behind every blind corner, and death is essentially random. The explosion in the hideout; the shootout in the bar; the assassination on the beach; and the shootout in the elevator all come suddenly, without warning. No one expects it, least of all those who died. Kitano's static camera and long takes makes the on-set of violence all the more explosive and surprising.
That static camera and those long takes also give the middle section of the film—where our gangsters hide out at a remote beach house, eventually joined by a young woman—it's dreamlike feel. Director Takeshi Kitano stars, and he is wonderful, his stoic expression and controlled movements belying a wry, deadpan humor. He is visibly bored by the violence he encounters, something emphasized in the final sequence, when he finally explodes but all we see are his victims and the flashing of the gun. He does not find pleasure in this, and neither will we.
The Photos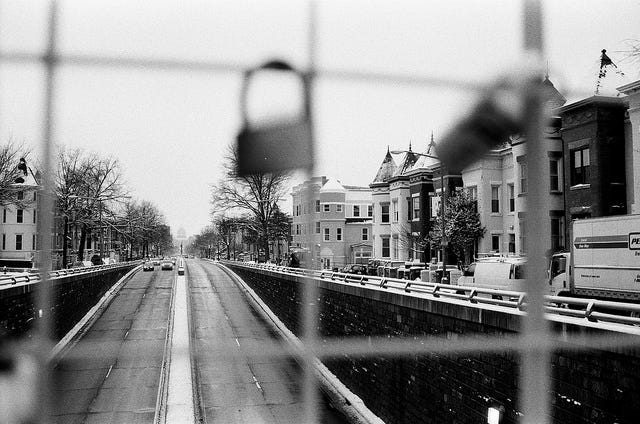 I'm still working through my developed film from last month—and there's nothing yet I'm eager to share—so I decided to go into the archive for something that stands out. I took this two years ago, while standing on an overpass near my old apartment in D.C. House of Cards fans will recognize this street from the credits—it's North Capitol, which runs from the Capitol building up into Northeast D.C.
Beyond the composition—the fencing frames each section of the scene as if you were viewing it through a digital viewfinder, guiding your eyes to the lines that stretch back into infinity—what I like about this photo is what it suggests in the interplay of the Capitol building, the fencing, and the locks. The Capitol is distant—faint in the background but still an obvious presence. The fencing and the locks add to that distance: it's not that you won't reach the Capitol and what it represents, but that you can't.
I'll confess I didn't have this reading when I took the photo. It's only in the past 18 months or so—and really, over the last month—that I have approached this with new eyes, asking the question "who is gazing through the fence?" Is it a voter, locked out because of suppression and disenfranchisement? A worker, locked out by a government that disdains organized labor? A migrant and her child, looking out from a detention center?
I've always liked this photo, but now, it actually resonates. I'd love to know your view. Leave a comment if you have a thought.
A regular reminder that I share photos everyday on my Instagram and I sell prints at my website.
The Recipes
Red Beans and (Carolina Gold) Rice
By now you know that I love beans (insert my favorite tweet), and Mondays are usually Bean Days in the Bouie household. This is a reliably good recipe, enhanced by using good quality beans (I recommend Rancho Gordo Domingo Rojo beans), homemade chicken stock, and the best bacon and sausage you can get your hands on. Of course, you can make this vegetarian by omitting the chicken stock and the meat, and adding a healthy amount of smoked paprika as you sauté the vegetables.
As for the rice, I highly recommend using Carolina Gold, an heirloom rice from the Low Country of South Carolina. It's a bit hard to find and a little expensive, but you can order it online from either Anson Mills or Carolina Plantation (ehhh on the name). It's a sticky, almost creamy rice that holds its shape incredibly well and is a perfect pairing for red beans or stewed black-eyed peas or any smoky, heavily-spiced bean dish. I cook it the Sean Brock way. Recipe adapted from Joy the Baker.
Ingredients!
1 pound dried red beans, rinsed and picked through for stones

1/3 cup diced bacon

1 large yellow onion, diced

3 celery stalks, chopped

1 large green or red bell pepper, deseeded and diced

1/2 teaspoon salt

1/2 teaspoon freshly ground black pepper

1/4 to 1/2 teaspoon cayenne pepper

3 cloves garlic, minced

2 tablespoons fresh parsley, coarsely chopped

2 teaspoons fresh thyme, roughly chopped

1/2 pound cooked smoked sausage cut into 1-inch pieces

about 10 cups chicken stock or water

2 fresh bay leaves

6 cups cooked white rice

chopped green onions for garnish
Directions!
Place clean dried beans in a medium pot and cover with room temperature water. Allow to soak overnight before making the beans.
If you don't have time to soak the beans overnight, don't fret. Place the clean dried beans in a medium pot and cover with room temperature water. Place over medium heat and bring to a boil. As soon as the beans boil, cover, remove from heat, and allow to soak for 1 hour. Carry on with the recipe.
In a large soup pot over medium heat, cook bacon until very well crisp, about 6 minutes.
Add the onions, celery, and bell pepper and cook until vegetables are very well done, about 8 minutes.
Add salt, pepper, and cayenne or Tony Chachere Seasoning and stir to combine. Stir in the garlic, parsley, thyme, and sliced sausage. Increase heat to medium-high and cook until the sausage is well browned, about 5 minutes. Stir frequently.
Add the softened beans to the pot, the stock, and bay leaves. Reduce heat to low and allow to simmer for about 2 hours, uncovered, until the beans are well softened.
Taste and season with more salt or pepper.
For a slightly smoother consistency, blend about 1/3 of bean and sausage mixture in a blender or food processor and return to the pot. This way, some of the beans will be ground smooth and some will be kept whole, creating a really lovely consistency. You can also smooth out some of the beans by mashing them against the side of the pan once they're softened, but I like the bender method best.
Serve beans with white rice and a hearty garish of green onions.
Ratatouille
This is a summer staple. I actually went to the farmer's market to grab produce for this earlier in the week, so I'll be having it for dinner tonight, with a fresh baguette from a local bakery. Feel free to omit the smoked paprika, but I like the flavor it gives. And, nothing here is terribly precise, so if you don't have the right amount of vegetables, or too many, don't worry about it. Recipe via Serious Eats.
Ingredients!
2 medium summer squash, either zucchini or yellow squash or both, cut into a 1/4-inch dice, about 3 cups.

1 medium eggplant, cut into a 1/4-inch dice, about 3 cups.

salt and freshly ground black pepper

3/4 cup extra-virgin olive oil, plus more as needed

3 medium onions, diced

6 cloves garlic, minced

4 large bell peppers, red or yellow or both, cut into a 1/4-inch dice, about 3 cups.

2 cups pureed tomatoes (either fresh or canned works)

1 bouquet garni made from thyme, parsley, and basil

1 teaspoon smoked paprika (optional)

chopped fresh herbs for garnish
Directions!
Place summer squash in a wire mesh strainer set over a bowl; place eggplant in a second wire mesh strainer and set over a second bowl. Toss both with a liberal amount of kosher salt and let stand to drain at least 15 minutes and up to 1 hour. Discard any liquid that collects in the bowls.
In a large skillet, heat 3 tablespoons olive oil over medium-high heat until shimmering. Add onion and garlic, season with salt, and cook, stirring, until softened, about 6 minutes. Scrape onion and garlic onto a rimmed baking sheet and spread in an even layer to cool for 3 minutes. Transfer onion and garlic to a large pot.
Meanwhile, add 3 more tablespoons olive oil to skillet and heat over medium-high heat until shimmering. Add bell pepper, season with salt, and cook, stirring, until softened, about 7 minutes. Scrape bell pepper onto the rimmed baking sheet in an even layer to cool for 3 minutes. Transfer bell pepper to pot with onion.
Add 3 more tablespoons olive oil to skillet and heat over medium-high heat until shimmering. Add summer squash and cook, stirring, until softened, about 4 minutes. Scrape onto rimmed baking sheet in an even layer to cool for 3 minutes. Transfer to pot with onion and bell pepper.
Add remaining 3 tablespoons olive oil to skillet and heat over medium-high heat until shimmering. Add eggplant and cook, stirring, until softened, about 4 minutes; add more olive oil as needed if skillet dries out while cooking eggplant. Scrape eggplant into pot with other vegetables and stir to combine.
Set pot of vegetables over medium-high heat and stir in tomato puree and herb bundle; heat until ratatouille is gently bubbling, then lower heat to medium and cook, stirring, until tomato puree coats vegetables in a thick sauce, about 20 to 30 minutes. Discard herb bundle. Season with salt, stir in chopped parsley (if using), and drizzle with a small amount of fresh extra-virgin olive oil. Serve right away, or chill and serve either reheated, or at room temperature.
---
just slide, glide, slippity-slide, just forget about your troubles and your nine to five